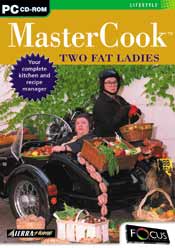 PC System Requirements
Windows® 95 / 98 / Me / NT / 2000 (Not compatible: Windows® XP)
486 or equivalent
(Pentium recommended)
60MB Hard Drive Space
16MB RAM for Windows® 95/98, 32MB for Me/NT/2000
800x600x16bit colours
CD-ROM Speed 4x or faster
16bit soundblaster or 100% Windows® compatible soundcard
Printer Optional (recommended)


Over 200 original Two Fat Ladies recipes.
---
Instructional cooking videos.
---
1,200 food and wine matches.
---
Meal planner and shopping list - plan meal days, weeks and months in advance.
---
MasterCookT is the ideal recipe manager - analyse a recipe or an entire menu for over 25 nutritional elements including calories, fat, vitamins, dietary fibre and sodium.
---
6,000 individual producers.
---
59 interactive maps.
---
ESS369
Your Complete Kitchen and Recipe Manager.
The Two Fat Ladies and MasterCookT combine to bring you traditional British fare with the most comprehensive and feature rich cooking and recipe management software available. Select from over 200 original Two Fat Ladies recipes organised into 13 recipe books. From breakfasts to cocktail parties, the Two Fat Ladies offer something for every occasion. Every recipe is delivered with their trademark wit and culinary wisdom and contains the customary richest of ingredients. Devilishly good! Relive classic moments from the television series as Jennifer Paterson and Clarissa Dickson impart fascinating tips on cooking and etiquette. Once you've selected a recipe MasterCookT will create a detailed shopping list and if you don't feel like going to the shops MasterCookT will suggest recipes based on the ingredients you have in your kitchen.

FEATURES * * * . * Add your own recipes. * Import and share recipes on the web. * Instant nutritional analysis. Bullet Points . *Easily locate recipes by ingredients, food type, category and cooking time. * Automatically create a shopping list for a single recipe or entire menu. * Print individual recipe cards and entire cookbooks. *

Reviews & Awards
"This is being marketed as 'The essential guide to getting the most out of your wine' and it's the truth" Daily Telegraph

"Improve your tippling knowledge... indispensable as a corkscrew" Evening Standard

"One of the best CD-ROM's you can buy" Personal Computer World

"Authority with a sense of fun... the disc is a winner" New York Times

"A brilliantly put-together CD-ROM" PC Review