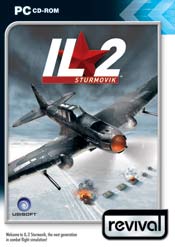 System Requirements
Windows® 98 / Me / 2000 / XP
Pentium II 500 or equivalent (Pentium III recommended)
522MB Hard Drive Space
128MB RAM
Any 100% 32MB Direct3D compatible graphics card
CD-ROM Speed 8x or faster
Any 100% DirectX 8.0 compatible soundcard
Printer required to print user manual
Multiplayer requires two networked computers
Internet Playable, Internet connection required


31 Russian, German and American planes are playable and another 40 are featured in the game.
---
Two different multiplayer modes: dog-fighting (up to 32 players) or co-operative missions (up to 16 players).
---
Massive air and ground battles between German and Russian airplanes and tanks.
---
Design your own solo and multiplayer missions and create new paint schemes.
---
REV064
Welcome to IL-2 Sturmovik, the next generation in combat flight simulation!
For the first time ever, fly the mystical Russian IL-2 Sturmovik ground attack aircraft during WWII on the Eastern front!
On June 22, 1941, Hitler's German forces attacked Russia's 2,000 mile-long home front and advanced on Moscow. The Russians put up a fierce resistance which finally ground the Nazi war machine to a halt.
Vital to the resistance was the Ilyushin Sturmovik, the "IL-2". It was an anti-tank aircraft hailed by the Russians, who called it the " Flying Tank", and feared by the Germans, who called it the "Black Death".
Join the Axis or the Red Army forces and play fighter or bomber campaigns ranging from 1941 to 1945.
Exceptionally high quality aircraft and ground unit graphics. Realistic smoke, explosions, fire and weather effects.