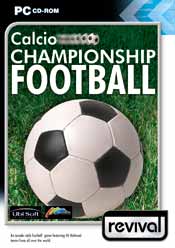 System Requirements

Windows® 95 / 98 / Me / 2000 / XP

Pentium ll 250 MHz or equivalent
250MB Hard Drive Space
32 MB RAM (64MB recommended)
Any DirectX 7.0 compatible graphics card
CD-ROM Speed 4x or faster
Any 100% DirectX 7.0 compatible soundcard
Printer required to print user manual
Multiplayer sharing the keyboard
Internet Playable: No


40 national teams.
---
2 stadiums.
---
4 different play modes – exhibition, cup tournament, league competition or penalty shoot out.
---
Comprehensive in-game replay feature - view the action from a range of different angles and save the best as highlights.
---
The option to change your teams' attitude, formation, starting line-up, offensive and defensive behaviour.
---
Challenging and realistic AI – all the moves of real life football.
---
Intuitive and responsive control system.
---
Customise Option – allows you to rename the game, add your own logos on menu screens and on the side of the stadium.
---
Up to 8 people can play simultaneously on a single PC.
---
REV039 ( Elspa Age 3+)
A game that will score with every soccer fan.

Calcio Championship is a fast addictive arcade-style football game for the PC, featuring 40 national teams from all over the world. Choose your favourite team and get into the action, only you can make them win. But watch out, football isn't just a question of reflexes, shots and footwork; you'll have to show you're as skilful with the ball as you are intelligent in your strategic choices.