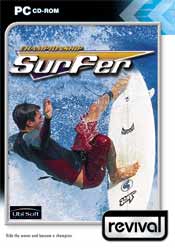 System Requirements

Windows® 95 / 98 / Me / 2000 / XP

Pentium® 233MHz or equivalent
450MB Hard Drive Space
32MB RAM
Any 4 MB DirectX 7 3D compatible graphics card
CD-ROM Speed 4x or faster
Any 100% DirectX 7 compatible soundcard
Printer required to print user manual
Multiplayer: No
Internet Playable: No


7 Modes: Trick Attack, Championship Circuit, Arcade, Free Surf, Rumble, King of the Waves and Time Attack.
---
First Ultra-realistic wave and water simulation.
---
More than 20 different moves and 40 different tricks – barrels, 360's aerials, rio's.
---
6 camera angles: Distance zoom, Super zoom and more.
---
REV037 ( Elspa Age 3+)
TIME TO RIP!

Championship Surfer is a surf rider's dream with 10 outrageous beaches, 5-to-30-foot breakers, and 8 world class surfers including Cory Lopez, Shane Beschen, and Rochelle Ballard. All you have to do is rip barrels, 360's, aerials, snaps, Rios (more than 40 tricks in all) against the best surfers in the world – and you can grab the Ultimate Championship. You got the cajones to be king of the giant waves? We'll see.