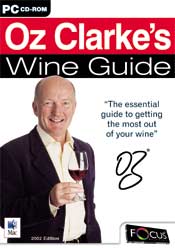 PC System Requirements
Windows® 95 / 98 / Me / NT / 2000 / XP
486 or equivalent
(Pentium recommended)
20MB Hard Drive Space
16MB RAM
800x600x16bit colour
CD-ROM Speed 2x or faster
16bit Soundcard or 100% Windows® compatible soundcard
Printer optional (recommended)
MAC System Requirements

System MAC OS 7 or later
Any Macintosh
1MB Hard Drive Space
8MB RAM
800x600x16bit colour
CD-ROM Speed 2x or faster
Soundcard required
Printer optional (recommended)


---
150 new encyclopedia entries including producers that may be the stars of tomorrow.
---
800 new Wine Selector profiles of exciting wines that have only recently made their name.
---
7 new Vintage Chart pages, increasing the number of Vintage Charts available to 36.
---
26 new Maturity Charts bringing the total to 73 covering all the major regions and classic wines.
---
54 "How-To Wine Tasting Videos.
---
1,200 Food and Wine Matches.
---
35,000 up-to-date Vintage Recommendations.

---
6,000 Individual Producers.

---
59 Interactive Maps.
---
FFB022
The essential guide to choosing, evaluating and enjoying wine.

Let Oz Clarke help you select the perfect wine for every occasion – from classic wines to exceptional finds.

Containing all the latest vintage information, this award-winning* CD-ROM covers every aspect you need for getting the most out of your wine.

FIND THE PERFECT WINE FOR A MEAL
The Food and Wine database gives 1,200 suggestions for the ideal wines for over 600 dishes, from filet mignon to pasta with tomato sauce.

VISIT THE MAJOR WINE REGIONS
Take a virtual tour of the world's great wine regions through detailed interactive maps.

IMPROVE YOUR WINE KNOWLEDGE
An encyclopedia covering wines, producers, regions and technical terms. NOW! With nearly 3,000 entries.

LOCATING WINES
Use the Wine Selector to find the wine you want instantly. NOW! With over 10,000 profiles and tasting notes.

Reviews & Awards
*Winner of MacUser Editors' Choice Award and the Lanson Award.