3D Landscape Software CD
Designing your garden is a major project. That's why you need 3D Landscape - the interactive multimedia software program that helps you plan, design and build the perfect garden. With the program's advanced 3D modelling technology, you can design your garden like never before - with quality 3D representations that show slopes and areas of shade and sun. You can even watch your garden grow. With an extensive design guide, a comprehensive plant database and a built-in costing module, 3D Landscape is the complete do-it-yourself landscape design package.
With 3D Landscape you have everything you need to create accurate, refined plants. A simple mouse click places trees, shrubs, hedges, walkways, retaining walls, fences, patios, lights, fountains ponds and the outline of your house. Correctly plan your garden by using the Shadow Caster to see where your shadows fall throughout the day or year. Use the Slope feature to plan landscape on hilly or contoured land - or to plan a rockery. The on screen calculator lets you estimate screening heights and soil pH amendments, as well as cement and cut-fill volumes and weights.
3D Landscape doesn't expect you to know everything there is to know about design and build. It has the built-in-multimedia "How-to Guide" that explains landscaping principles, techniques and building projects. All the know-how you need to create the garden of your dreams.
Minimum System Requirements
Windows 3.1x or win 95 or XP, 486DX, 66MHz processor or faster, 10MB free hard disk space, 8MB RAM, 16 Bit SoundBlaster or 100% compatible soundcard & quad speed CD-ROM drive.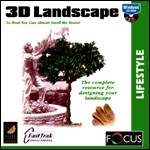 Price: £8.50 (+VAT)
Format: PC CDROM
Product Code: ESS129
3D Landscape Software CD
With the program's advanced 3D modelling technology, you can design your garden like never before - with quality 3D representations that show slopes and areas of shade and sun