10,000 Photos Volume 1
A picture says a thousand words. 10,000 Photos Volume 2 is a photographic library of full colour 24-bit 72-DPI high quality JPEG images for work, school, home and your own personal web pages.
10,000 royalty free photographs in a variety of fun and practical categories. xp
Quickly and easily import photographs into your favourite word processor, desktop publisher, painting or drawing program.
Enhance all your printed materials with professional quality photographs. Perfect for presentation brochures, newsletters, advertisements, invitations, catalogues, school projects, written reports and more.
The image finder lets you browse and preview photographs with point and click ease.
Drag and drop the photographs of your choice into any open application: it's that easy! All photos can be modified or cropped to meet your exact requirements
Photos print in full colour or black and white.
The images are pre-sorted into over 60 categories including; Alaska, Animals, Europe, Flags, Food, Industry, National Parks, People, Religion, Sports, Transport, Water sports plus many, many more.
Minimum System Requirements
Windows 3.1x or win 95 or XP, 486DX2 66MHz processor or faster, 10MB free hard disk space, 8MB RAM & quad speed CD-ROM drive.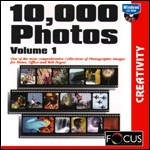 Price: £8.50 (+VAT)
Format: PC CDROM
Product Code: ESS125