Focus Greeting Card Maker
Whatever the occasion, Focus Greeting Card Maker lets you create an unlimited number of stunning greeting card designs using your home PC and printer.
Whether you choose to make up your own individual designs or use one of the many card designs in the program, you can easily produce a finished card in literally minutes. You'll have the flexibility to create cards & messages tailor made for the person you're sending to them. What's more the program's so easy and fun to use, the whole family will soon be creating imaginative card designs for all their friends and relatives.
Choose from a wide range of pre-designed cards, including Announcements, Birthdays, Christmas, Good Luck, Invitations and Events
Liven up all your card designs by choosing from a wide variety or exciting clip art images, borders and fonts, which have been specially chosen for card designs.
Create speech bubbles, stars, ellipses, polygons, hexagons and triangles using the comprehensive drawing tools.
Send objects to the front or back to create multi-layering effects in your designs.
Personalise your card designs by importing photographs of friends and relatives. Supports .bmp and .wmf picture formats.
Store details of friends and relatives in the address book, complete with mail merge facility.
Minimum System Requirements
Windows 3.1x or win 95 or XP, 486DX 33MHz processor or faster (Pentium recommended), 10MB free hard disk space, 8MB RAM & dual speed CD-ROM drive.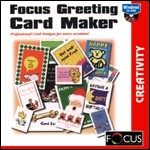 Price: £8.50 (+VAT)
Format: PC CDROM
Product Code: ESS124
Focus Greeting Card Maker