10,000 ClipArt Images
This comprehensive CD has everything you need to make your documents look more exciting and professional. Whether you are looking for images for a report, poster, project or newsletter, 10,000 ClipArt Images are sure to have what you need.
Includes a wide variety of clipart in more than 40 categories including: astrology, animals, birds, insects, backgrounds, borders, buildings, business, clothing, clocks, communication, construction, children, entertainment, food, flags, human body, instruments, religion, space science, sports and people plus many more.
Includes bonus Thumbsplus - Thumbsplus is a graphic file viewer, locator and organiser that simplifies the process of finding and maintaining graphics, clip art files, fonts and animations by displaying thumbnail images of each file. You can use Thumbsplus to edit, crop, resize and rotate and copy images to the clipboard. Also allows you to print an entire catalogue of thumbnail images. Thumbsplus supports standard file formats including TIF, WMF, BMP, JPEG plus many more.
Minimum System Requirements
Windows 3.1x or win 95 or XP, 486 processor or faster, Runs from CD (6MB free hard disk space if installed), 8MB RAM (16MB recommended) & dual speed CD-ROM drive.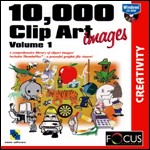 Price: £8.50 (+VAT)
Format: PC CDROM
Product Code: ESS103
10,000 ClipArt Images
10,000 ClipArt Images are sure to have what you need.