Multimedia Presenter
Quickly and easily create professional looking presentations combining text, diagrams and pictures.
Create stand alone presentations from your home computer, easily and quickly.
Simple to follow compile operation produces one executable file to run your presentation from.
Insert text, pictures and video clips.
Can load external programs such as Word and Paintbrush so your own personal frontend menu system can be created.
Include pull down menus in your presentation.
Easy to follow tutorials.
Library of buttons for a professional look.
Variety of templates enable you to get started quickly.
Minimum System Requirements
Windows 3.1x or win 95 or XP, 386DX 33MHz microprocessor or faster, 10MB free hard disk space, 8MB RAM, 16 Bit SoundBlaster or 100% compatible soundcard & dual speed CD-ROM drive. xp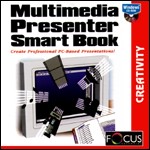 Price: £8.50 (+VAT)
Format: PC CDROM
Product Code: ESS094