Driving Test Success interactive CD
Prepare yourself thoroughly for the rigors of the UK Driving test theory exam. This authoritative aid contains everything you need to know to help you pass first time! Make sure that you have the confidence and knowledge to sit the examination with this fully structured package.
Contains the entire official DSA question set for the UK and Northern Ireland Car and Motorcycle tests.
Three extra question categories: Extra Road Signs, Observation and Common Mistakes.
Over 80 video questions.
Nearly 200 colour photographs.
'Virtual Examination mode' allows you to be fully prepared for your exam
Provides hints and explanations for each answer to assist with learning and understanding
Monitor your progress through detailed marking of your paper and immediate feedback on your answers
Video and photographs provide additional knowledge and information regarding safe driving practices, as well as legal and technical issues.
Ideal for pupil and instructor alike!
Minimum System Requirements
Windows 3.1x or win 95 or XP, 486SX 25MHz processor or faster, 300Kb free hard disk space (Runs from CD), 8MB RAM, 16 Bit SoundBlaster or 100% compatible soundcard & dual speed CD-ROM drive.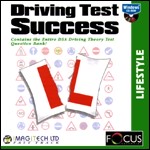 Price: £8.50 (+VAT)
Format: PC CDROM
Product Code: ESS072
Driving Test Success interactive CD
Ideal for pupil and instructor alike!