The Interactive CD Wine Guide
Step into an interactive wine class and learn everything you will ever need to know about the wines of the world. Impress your friends and family with your knowledge, whether eating at home or out. Know what you are ordering, which wines go best with which foods and the difference between wine types. With The Interactive Wine Cellar you will be on your way to being the wine expert you have always wanted to be.
Search instantly for wines or terms with a full text word feature.
Print entire directories, wine descriptions, glossaries and terms.
Browse through A-Z glossary of wine terms.
Learn about the wine making regions of the world.
Over 30 minutes of full-motion video and audio.
Minimum System Requirements
Windows 3.1x or win 95 or XP, 386DX, 33MHz microprocessor or faster, 1K free hard disk space (runs from CD), 4MB RAM & dual speed CD-ROM drive. xp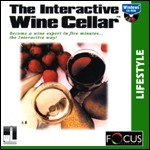 Price: £8.50 (+VAT)
Format: PC CDROM
Product Code: ESS037
The Interactive CD Wine Guide
Step into an interactive wine class and learn everything you will ever need to know about the wines of the world