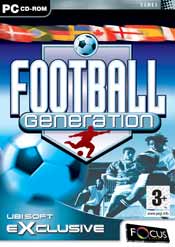 PC System Requirements
Windows® 98/Me/2000/XP
Pentium® II 400 or equivalent
650MB Hard Drive Space
128MB RAM
Any 32MB DirectX 8.1 compatible graphics card
CD-ROM Speed 4x or faster
Any 100% DirectX 8.1 compatible soundcard
Required to print user manual
Yes (Game controller required)
Internet not required


4 Different Game Modes

• Quick Match - play a friendly match between two national teams, two clubs, or a club and a national team.
• Clubs Cup - Choose which team to control and which teams are taking part in, or generate a random cup. Each phase follows real counterpart rules.
• Clubs League - a mixture of Cup and Championship featuring the same formula as Clubs Cup. Choose participating teams and form customised first stage groups.
• Custom - create your own competition choosing from options such as team category, the number of participating teams, the number of rounds, formula (Knock-Out, Groups, League), away goal rule, etc.
---
ESS515
CONTROL THE DESTINY OF YOUR TEAM WITH THIS UNIQUE FOOTBALL EXPERIENCE

Football Generation offers you the very best in football game simulation! Rush into the playing field and enjoy thrilling matches in very realistic conditions! Choose your tactics and lead your own team to victory in one major football competition! 6 incredibly detailed stadiums and full commentary bring authentic match day excitement to your living room. The animated crowd, bursting with emotion and colour react to events on the field, such as a goal or a nice finish, chanting louder when their team has the ball or watching in silence when it's undergoing an attack.

Special Key Features:

•
Over 40 national teams.
•
Over 30 club teams.
•
World and European all-star teams.
•
Comprehensive in-game replay - view the action from a range of different angles.
•
Change the players' formation and position within the team.
•
A variety of game options – including game difficulty, referee severity, match length and radar display.
•
Every match can be played by day or night, and with variable weather conditions.