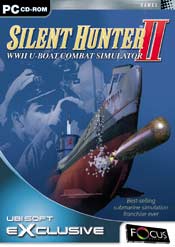 System Requirements

Windows® 95 / 98 / Me


(Not compatible: Windows® XP)
Pentium II 266MHz or faster (600MHz recommended)
650MB Hard Drive Space
64MB RAM
(128MB recommended)
16MB 3D DirectX 8.0a compatible graphics card
CD-ROM Speed 4x or faster
Any 100% DirectX 8.0a compatible soundcard
Printer required to print user manual
Additional Requirements Internet/LAN Connection – required to link to Destroyer Command (Optional)


An all new U-Boat perspective that includes over 200 highly detailed 3D models.
---
Ultra-realistic ocean environment.
---
3 Training Missions, Single Missions and Campaign Mode.
---
Combat a wide array of enemy forces including destroyers, armed merchant ships and aircraft.
---
Scalable realism settings make the game accessible to both beginner and expert.
---
ESS405
(Elspa Age 11+)
WWII U-Boat Combat Simulator
The Most Intense and Realistic Submarine Simulation Ever Created

Best-selling submarine simulation franchise ever created.
SILENT HUNTER™ II recreates WWII's epic battle for control of the Atlantic. Take command of a cunning and deadly U-boat and test your skill against Allied naval forces.
Beautiful 3D environments, immersive sound effects, detailed weapons and realistic ocean movement make this instalment of the Silent Hunter franchise the most exciting submarine simulation ever.
Technical Consultant: Admiral Erich Topp. During WWII, Topp commanded the U-57 and U-552 (the Red Devil Boat). After the war, he served in the West German Navy and in NATO.


Battle on-line against
Destroyer Command Players
(Destroyer Command sold separately.)
"Two different games, one multiplayer battlefield. The most exciting moment in naval and submarine simulation history is approaching." Subsim.com