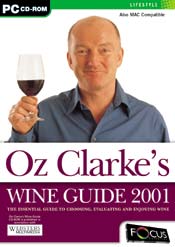 PC System Requirements
Windows® 95 / 98 / Me / NT / 2000 / XP
486 or equivalent
(Pentium recommended)
20MB Hard Drive Space
16MB RAM Windows® 95 / 98, 32MB for Me / NT / 2000 / XP
800x600x16bit colours
CD-ROM Speed 4x or faster
16bit soundblaster or 100% Windows® compatible soundcard
Printer recommended
MAC System Requirements

System MAC OS 7 or later
Any Macintosh
1MB Hard Drive Space
8MB RAM
800x600x16bit colours
CD-ROM Speed 2x or faster
Soundcard required
Printer recommended


Wine Selector database, with over 10,000 wines.
---
54 "How To" wine tasting videos.
---
1,200 food and wine matches.
---
3,500 entry encyclopedia and glossary.
---
35,000 up-to-date vintage recommendations.
---
6,000 individual producers.
---
59 interactive maps.
---
ESS367
THE ESSENTIAL GUIDE TO CHOOSING, EVALUATING AND ENJOYING WINE.

Let Oz Clarke help you select the perfect wine for every occasion – from classic wines to exceptional finds.

This award-winning PC CD-ROM covers every aspect of choosing, evaluating and enjoying wine.

FIND THE PERFECT WINE FOR A MEAL
The Food and Wine database gives 1,200 suggestions for the ideal wines for over 600 dishes, from filet mignon to pasta with tomato sauce.

VISIT THE MAJOR WINE REGIONS
Take a virtual tour of the world's great wine regions through detailed interactive maps.

IMPROVE YOUR WINE KNOWLEDGE
An encyclopedia covering wines, producers, regions and technical terms.

WINE TASTING VIDEOS
Learn to evaluate wines with Oz's deliciously informative videos, filled with tasting tips.

LOCATING WINES
Use the Wine Selector to find the wine you want instantly.

Reviews & Awards
"This is being marketed as 'The essential guide to getting the most out of your wine' and it's the truth" Daily Telegraph

"Improve your tippling knowledge... indispensable as a corkscrew" Evening Standard

"One of the best CD-ROM's you can buy" Personal Computer World

"Authority with a sense of fun... the disc is a winner" New York Times

"A brilliantly put-together CD-ROM" PC Review