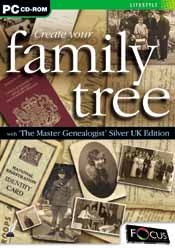 System Requirements

Windows® 95 / 98 / Me / 2000


(Not Compatible:
Windows® XP)
486 or equivalent
(Pentium recommended)
40MB Hard Drive Space
16MB RAM
800x600x256 colours
CD-ROM Speed 2x or faster
Soundcard not required
Printer optional (recommended)


No limit to the number of names you can enter, therefore allowing you to document your research in as much or as little detail as required.

---
Enter unlimited data such as multiple births, deaths, education, employment and military data.

---
Import your favourite family photographs and even full motion video to provide an everlasting invaluable record of your past.

---
The Master Genealogist comes complete with a printable 'Reference Manual' and a 'Getting Started Manual' with tutorials, recommended to get you started.

---
Spell-checker supports UK spelling variations.
---
ESS329
The world's most professional family tree project manager and yet so easy to use.

Everyone has ancestors. Have you ever wondered who they are or if you are related to a famous personality? Did your grandmother really have three sets of twins? Are you really related to William Shakespeare or Florence Nightingale? Even for medical reasons it can be good to know your family's past.
Whether you have a genuine interest in the past or are simply curious to trace the roots of your ancestry, these are all great reasons to embark on a voyage of discovery through the art of genealogy – the highly addictive activity of family history research. Designed for British users The Master Genealogist – Silver UK Edition, contains dozens of pre-defined reports, charts and forms designed as a keepsake for all your research. Enter information such as where you or your family were born in reference to what parish, city or county.
Using another genealogy program? Worried about losing years of vital research? The Master Genealogist allows you to import your existing data directly from more than 20 programs and formats, including PAF and GEDCOM.