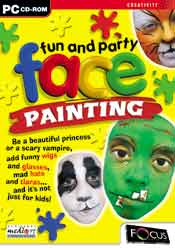 System Requirements
Windows® 95 / 98 / Me / NT / 2000 / XP
Pentium 75 or equivalent
21MB Hard Drive Space
16MB RAM
800x600x16bit colours
CD-ROM Speed 2x or faster
Soundcard optional
Printer optional (recommended)


Scan in your photo, use a digital camera, import from a KODAK Picture CD or use one of the models provided to experiment with hundreds of different face paint designs.
---
Face painting designs and products supplied by The Face Paint Co. a division of Tactical Magic www.tacticalmagic.co.uk
---
ESS327
Be a beautiful princess or a scary vampire, add funny wigs and glasses, mad hats and tiaras… and it's not just for kids!

Are you: fund-raising for a charity, celebrating Halloween, Easter or New Year's Eve, a parent with young kids, joining in a carnival or festival, dressing up, putting on a play, a crèche or child care provider, or simply short of themes for a party?
It's easy to do. You don't have to be a world-class artist to create roaring lions, scary monsters, cute puppy dogs and beautiful princesses upon demand. Just follow the simple step-by-step guides with help from Tactical Magic and you'll have the basic face painting skills in an instant.
See your own face transform into the fearsome features of a vampire or a fluffy bunny rabbit at the click of a mouse!
Don't stop there; finish off your look with wacky Party Wigs, sparkling tiaras from Claire's Accessories, glitzy eyelashes plus loads of crazy glasses and mad hats. Want to try another look? Then just wipe your screen clear and you're ready to start again.
Kids will absolutely love Fun and Party Face Painting. Whether they're playing at make-believe, fancy dress or celebrating their birthday party and having fun with friends, face painting is always a 'must'! They can be creative, colourful and messy all at once, but don't worry – all recommended products are water-soluble and non-toxic, so it will all come out in the wash.