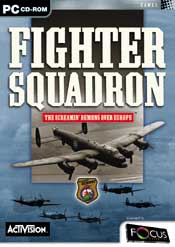 System Requirements

Windows® 95 / 98 / Me


(Not compatible: Windows® XP)
Pentium® 200 or equivalent
285MB Hard Drive Space
48MB RAM
Any 8MB DirectX 6.1 3D compatible graphics card
CD-ROM Speed 4x or faster
Any 100% Windows® compatible soundcard
Printer required to print user manual
Multiplayer requires two networked computers
Internet Playable, Internet connection required


"Skinnable" aircraft allows you to create your own camouflage scheme or simply download user created schemes featuring famous squadron markings or famous aces' aircraft.
---
Mission Editor – allows you to create your own missions to fly solo or multiplayer – allowing up to 16 players over the Internet.
---
Superb terrain with rolling hills ideal for dogfighting.
---
Create your pilot's career with decorations and promotions.
---
Jump from plane to plane during missions allowing you to command and control an entire strike or to co-ordinate a desperate aerial defence. Take up different crew positions such as bombardier, tail gunner, turret gunner or leave the plane to fly on autopilot.
---
ESS298 ( Elspa Age 11+)
The Screamin' Demons over Europe

This sensational flight simulator takes you into the realms of the grim reality of World War II. Feel the shudder of shrapnel piercing fuselage. Eye the torrent of smoke and shattered parts trailing from your engine as you try to make it back to base alive with a sheared off wing. Fighter Squadron: The Screamin' Demons over Europe, delivers combat so real, you will think that you were there.
Lurch into the cloudy skies in any of the ten aircraft from three different countries: the UK (Lancaster bomber, Mosquito, Spitfire and Typhoon), the US (B-17G Flying Fortress, P-38 Lightening and P-51 Mustang) and Germany (FW190, Me-262 Jet and the Junkers 88 bomber).

Take on 90 separate missions in 30 scenarios with advanced squadron AI; aggression, loyalty, morale, skill and sanity – even individual gunner positions react independently.
Reviews & Awards
"the nose to tail dogfight is electric, whether you are in a P-38 attacking FW190's over the industrial Rhineland; or one of a squadron of Spitfires buzzing a fragile flight of Ju88 bombers over the sea lashed coasts of Dover". CD Gamer 89%

"… arguably one of the most realistic WWII flight sims available". PC Zone 86%