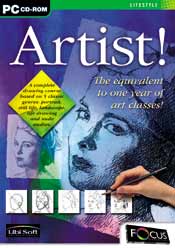 System Requirements
Windows® 95 / 98 / Me / XP
Pentium 90 or equivalent
5MB Hard Drive Space
16MB RAM
640x480x16bit colours
CD-ROM Speed 4x or faster
Any 100% Windows® compatible soundcard
Printer optional (recommended)


View each step in detail with the zoom feature.

---
Learn to criticise your own drawings and correct your mistakes.

---
Rotating 3D models show the structure of each model.

---
Video sequences cover basic techniques.

---
Learn how to sketch quickly and from memory.

---
Perspective and simulation exercises teach fundamentals, such as how to move the vanishing point.

---
Use the work of professional artists as a source of inspiration.

---
40 models, 20 steps per model, 5 subjects.

---
40 3D images, 650 helpful tips, 30 videos.

---
14 lessons on perspective, 800 high-resolution drawings.

---
120 Master works, 100 interpretations, 50 student drawings.
---
ESS275
The equivalent to one year of art classes!

Ideal for both beginner and advanced artists this complete drawing course will help you to master those essential techniques and tap into your creative talents.
Using a proven and tested educational method, learn the 5 most classic genres; portrait, still life, landscape, life drawing and nude studies using the 40 models, 650 narrated steps and 1,200 drawings available.
With each model presented in a linear, step-by-step format with commentary available at all times, it's the easiest way to learn how to draw!
Please note that this CD-ROM contains images of nudity.